Hi Yuvraj, you can't ever go away from my heart even after quitting cricket: Sincerely, your fan
Jun 11 , 2019
13 min read
1709 Views
5

Likes
0 Comments
---
Dear Yuvi,
Heartful thanks for those glorious 20 years of cricket that you played and took India to the next level especially in the shorter format of the game.
Only a few elite players get an opportunity to represent India in 400 international matches including 300+ ODIs.
However, none can match the aggressive approach and never die attitude that you showed on and off the field, not even a Sehwag or a Dhoni can.
Before I talk about the unforgettable memories of 2007 T20 world cup and 2011 ODI world cup, I want to dwell into the past to remember those days when I was the newest member of a community called "Die Hard Indian Fans".
DD National was my favourite channel back then since it covered all of India's matches. One after the other, there were various superstars in the team, however, I would eagerly wait for your batting. I never imagined a cricketer walk on the ground with so much swag as much you would.
Whenever you played that six-fetching shot over a deep square leg while sitting on one knee, I would copy the shot in the gully cricket match being played in the narrow street outside my home, only to break the glass of my neighbour's window. It was a frightful yet fascinating experience!
Could anything ever get easier for me than copying your simple bowling action? It did help me in turning the ball and getting vital wickets on demand, so thank you for it.
Yes, your performance in 2011 word cup was special and extraordinary, however, you stole my heart the day when you partnered with Mohammad Kaif to script India's greatest win in ODIs in the 2002 Natwest Trophy Final against England.
People might consider Jhonty Rodes as the best fielder, but for us, you redefined the fielding. Your divings at the point to save boundaries and spot-on throws to disbalance the bails would give us a sense of security whenever India fielded.
Against England in 2007 World Cup, when Andrew Flintoff had an intense conversation with you, I was silently praying for you to show "Punjabi" flavour and give him and his team a befitting reply.
We weren't in a great position at that time and if India hadn't scored another 20-30 runs, England could have easily won.
However, as always, cometh the hour, cometh the man. The next 6 balls proved who the real king was. Your teammates in the ground, thousands of fans in the stadium and millions of fans sitting in the comfort of their homes joyously celebrated each of those 6 sixes you hit to Stuard Broad.
There was a time when people speculated a rift between you and MS Dhoni; however as a true cricket fan, only we know that MS Dhoni can't be indebted to someone as much as to you.
If MS Dhoni would ever be hailed for bringing glory to India by becoming the first captain to win T20 and ODI World Cup, a large credit of his success would go to your exemplary performance on both the occasions.
You both remain best buddies off and on the ground and stitched several victories for India together, including that famous win in the finals of World Cup 2011 and against Pakistan in Lahore, back in 2006, so a thank you for that!
I have already mentioned World Cup 2011 at so many places that it is almost irrelevant to describe that even again. However, it would surely be the most interesting chapter of your life, that you wrote alongside our hopes.
Amidst our high expectations and celebrations matches after matches, we didn't even realise that you were silently deferring cancer. Like most of us, you must have also forgotten the pains while witnessing Sachin Tendulkar and with him, millions of Indian fans winning their dreams – THE WORLD CUP. A big thank you for it!
Yuvi, when you defeated cancer and came back on the field fine and healthy, we celebrated every bit of it. However, we were also as much disappointed as you while watching the post-match presentation ceremony after getting defeated by Sri Lanka in 2014 world cup finals.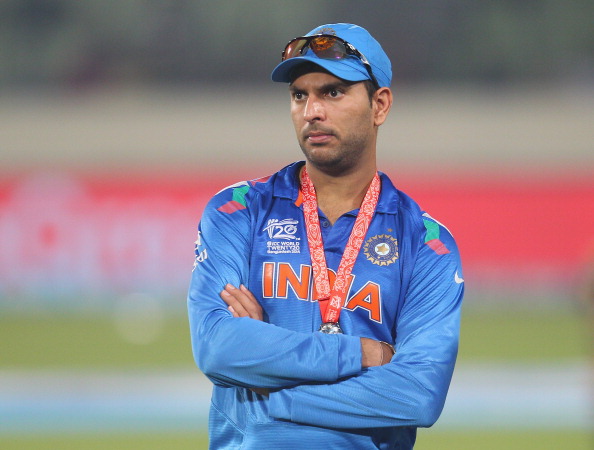 Your innings of 11 runs off 21 balls was severely criticised, but only a true cricket fan can understand that it is part and parcel of the game.
As you have finally retired from cricket today, we have found yet another reason for bidding goodbye to Cricket.
I might be feeling emotional right now, but that's because you were not just a cricketer to me and several others born in the 90s; you were the reason for our happiness as we grew from careless children to responsible adults. So, a big thank you for that!
Your fans forever.
---
More In Business
More In Movies
More In Personalities