"Let's Do It" or "Do It" - What is Your Leadership Style?
Jun 30 , 2019
12 min read
1535 Views
2

Likes
0 Comments
---
24 June 2013, Edgbaston,
India was restricted to a modest 129/7 in the Champions Trophy final versus England, in 20 overs, after the 50-overs full match was severely affected by the rain.
At mid-innings point, England were the clear favourites since anything just over 6 runs per over in a 20 over match was easily achievable, even back then.
The only hope for India was heavy rain which could abandon the match and India would become the joint winners with England. Indian Fans, who were supporting the team in large numbers, were disappointed because of the team's performance.
Amidst all this, MS Dhoni, the commander of the troop, had other plans.
"Let's, first of all, get rid of the feeling that it's a 50-over game. It's a 20-over game, and we have seen in IPL and in T20 formats, 130 runs can be a difficult target to achieve. Secondly, nobody looks to the left of the pavilion. That's the side that the rain was coming from. So, I said god is not coming to save us. If you want to win this trophy, we'll have to fight it out. We are the number-1 ranked ODI side, so let's make sure that they have to fight for these 130-odd runs. Don't look for outside help."
No one hasn't forgotten yet, what happened after it. India played like Champions, as MS Dhoni became the only captain in the history of ODI cricket to win all 3 ICC trophies.
MS Dhoni didn't instruct his team, he combined them together and shared his action plan. He inspired them to achieve a goal – THE CHAMPIONS TROPHY.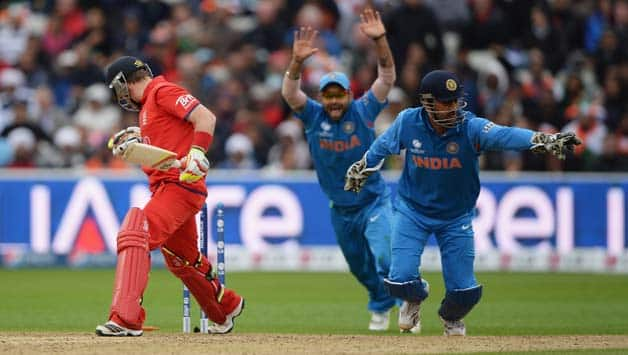 MS Dhoni got out on duck that day but didn't let the failure affected his captaincy a bit. When he completed lightning stumping to get rid of Jonathon Trott on a spinning wide ball off Ashwin, the message was loud and clear – My boys are looking up to me and I'll not disappoint them. He marshalled his troops brilliantly, was proactive, and took the most calculated risks – each one of them paid off in the end.
This quality differentiates a leader from a captain. Managing a group or team isn't as difficult or challenging as leading them.
Managers pass on orders to the team members which eliminates their creativity and decision-making ability. It dents the confidence which results in reduced productivity.
On the other hand, leaders motivate their team members to come up with new ideas and the process of achieving the desired goals. By doing this, they make the members feel important in the team's success which adds to the confidence level.
In the same 2013 champions trophy final, when Eion Morgan and Ravi Bopara were looking set to take England home, MS Dhoni brought Ishant into the attack. The goal was clear – to get one of these batsmen out and script a comeback.
1st ball – DOT BALL (appreciation from MS)
2nd ball – Six from Morgan (appreciation from MS)
3rd ball – Wide ball (still appreciation from MS)
After Ishant bowled the 3rd ball, MS came up to him and advised to change his bowling side and bowl around the wicket.
Ishant accepted his advice, came round the wicket and bowled 4th ball almost on the wide line. Morgan had to reach out for it and was caught by the fielder in Midwicket region.
Next ball, Ishant bowled a well-planned bouncer to Bopara, who hooked it and was caught in the third-man region.
MS didn't yell at Ishant or instruct him after the six or wide ball, else Ishant couldn't execute the plans perfectly.
A leader also believes in creating leaders instead of followers. He empowers other members to take up the responsibilities and deliver the results.
Remember, MS Dhoni once said, "Zaheer Khan is our captain of the bowling department. He knows how to lead the bowlers - so I leave it to him to make the changes, give key inputs regarding field placements and advise the other bowlers about line and length."
What do you think? What's that one quality you have acquired from the leadership skills of MS Dhoni? Let me know in the comment section below.
Keywords :
MS Dhoni
Champions Trophy 2013
England vs India
Cricket
Leadership
Leadership Style
---
More In Politics
More In Business
More In Movies
More In Current Affairs
More In Leadership